This version has been released on Saturday, February 1, 2020.
This version is considered a maintenance release packed with some great new features and enhancements. After countless sleepless nights and power packed test sessions we're happy to deliver v2.1.6! This version comes complete with numerous enhancements to both applications as well as the much requested ability to run rclone uploads as well as remove the lock set in place during uploads from the ease of your dashboards. We didn't stop there, we also added the option for viewing the upload log entry and extended it to be multi-user install friendly! Please keep in mind this will still require an Admin of the server to install/setup for the user, but the ease is there for Admin as the user can now run the uploads and remove locks if needed on their own terms.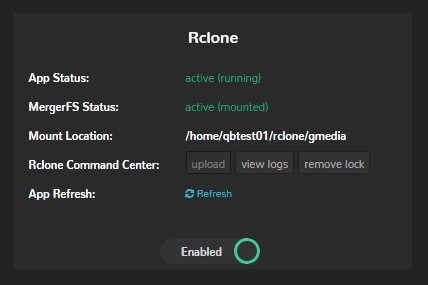 With this adjustment came a tweak to the qb upload command that has accompanied rclone. As of v2.1.6 the qb upload command will now be qb rclone [upload | logs | remove_lock] USERNAME. This command can only be ran via an Admin for a user in CLI. Users however, can access these same functions via their dashboard on the new status panel (seen above).
Speaking of Admin users, we've revamped the function to promote users to Admin on the system. This now gives them more control to better serve in supporting additional tasks and users on the system.
Another big enhancement that we're excited about is qBittorent and Deluge v2 can now be installed side-by-side. Not only can they be installed at the same time now, they are additionally built much faster with the help of compiling via the .deb packages. That's right; say goodbye to the famous 10 minute Deluge install times!!!
Of course, there is much more to this release so please check out the additional details below.
[supsystic-tables id=51]